The Petti Group produces tomato preserves since 1925, for decades the company of the family provides important Italian and international groups. In 2013 the packaging of all products branded PETTI was moved to the Group's plant named Italian Food S.p.A. and led by Pasquale Petti. Fourth generation of the family, he decides to launch a premium line of tomato preserves, dedicated to the Italian market and to the foreign markets more sensitive to innovation and quality. It is the birth of the products branded "Petti" made with high quality Tuscan and Italian tomatoes processed at low temperature.
MORE

Our Plus
Organic oriented
Unique and healthy products of high quality and of certified origin…
MORE
High quality tomatoes
Tuscan and Italian raw material carefully selected from integrated and organic farming, respecting the entire supply chain and product traceability
+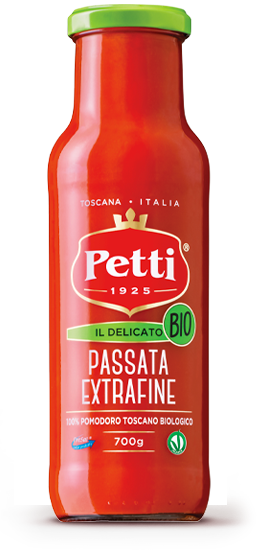 +
-
-
+
Low temperature process
The full taste and the bright red colour of freshly harvested tomato…
MORE
-
-
+
Distintive packaging
Aesthetic care, transparency and innovation to enhances the quality of products. In the glass line, special transparent and personalized bottle labels allow to see the product inside on each side..
MORE