Tomato sauce tortiglioni with fried aubergines and basil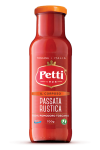 Method
Wash and cut the aubergines into cubes, fry them in plenty of warm and golden olive oil, drain them into a plate with kitchen paper, salt and keep warm.
In a non-stick pan, pour some olive oil and add an unpeeled clove of garlic; once golden, remove the garlic and add the savory sieved tomatoes "Il corposo" Petti, salt and let it bake with the lid on moderate heat for 20 minutes. Then turn off the fire, add one or two leaves of fresh basil and the aubergines.
Meanwhile, boil the tortiglioni pasta in plenty of salted water, cook them "al dente", drain and put them in a frying pan with the sauce. Serve with basil leaves' dressing.
Ingredients
320 g tortiglioni pasta
2 purple skin aubergines
500 g savory sieved tomatoes "Il corposo" Petti
1 clove of garlic
Fresh basil
Extra-virgin olive oil
Salt