A great idea for a starter or a basket of bread a bit 'special.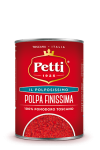 Preparation
Melt the yeast in lukewarm water with sugar and let it stand for 5 minutes. Blend the finely chopped tomato with the immersion blender.
In the dough kneader, mix the flour with the yeast, oil, half beaten egg, the Petti crushed tomatoes and, as soon as it becomes homogeneous, add salt, herbs and spices. Let the dough rise until doubled, then re-work and make small loaves. Brush with the half remaining egg and bake at 180 degrees for about 40-45 minutes. Serve also filled with fresh cheese or other stuffing as desired.
Ingredients
150 g semolina flour
150 g manitoba flour
12 g brewer's yeast
100 g crushed tomatoes Il polposissimo Petti
20 ml extra virgin olive oil
1 beaten egg
30 ml lukewarm water
1 pinch of sugar
1/2 teaspoon of salt
Oregano to taste
Smoked paprika to taste
black pepper
salt
Extra virgin olive oil
RECIPE: IANNACI MANUELA. BLOG: IL MIO PICCOLO BISTROT