Bucatini all'Amatriciana with crunchy pork jowl
20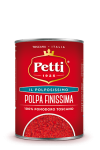 Method
To prepare bucatini all'amatriciana, cut the pork jowl into thin slices after removing the peppered edge; cut this into two similar portions and keep them to one side in two bowls. Put some oil into a non-stick frying pan and melt the pork jowl from one bowl over a low heat. Once browned, add the wine. Once the alcohol can no longer be smelt, add the Petti finely chopped tomatoes – crushed tomato pulp.
Meanwhile, brown the pork jowl from the other bowl in its fat in a non-stick saucepan. When golden brown, dry it on absorbent paper and put to one side.
Cook the bucatini in boiling salted water in a saucepan. Drain them, add them to the tomato and cream with plenty of pecorino cheese. Serve the bucatini all'amatriciana with pepper, pecorino cheese and the crunchy pork jowl.
Ingredients for 4 people

350 gm bucatini (pasta)
400 gm Petti finely chopped tomatoes - crushed tomato pulp
30 gm peppered pork jowl
1/2 glass of red wine
Grated pecorino cheese
Extra virgin olive oil
Salt
Pepper