Express Pizza with sieved tomatoes | Petti Recipes
An idea for dinner? What do you think of the recipe for a Petti tomato express pizza ready to serve? You can prepare the dough in the morning before going to work and in the evening, you can season your pizzas as you prefer and bake them! Thanks to our Social Foodies Anna Lamberti.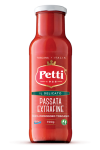 Preparation
Melt the yeast in a little water: then add the sugar, put the flour and malt in a kneader, add the yeast previously dissolved in a little warm water, the remaining water and the oil. Knead everything for a few minutes.
We work the dough for another 12 minutes: it must be smooth and soft; while it is kneaded add salt.
Put the mixture in a greased bowl and cover with a transparent film foil or with a lid for about 12 hours at room temperature (about 18/20 ° C). After this time on a floured working surface pour the dough and form balls of about 250 g each, then let it rise again for about 2 hours covered with the film or with a cloth, always at room temperature, until they will double in volume.
Roll the pizza dough with your hands and cut it to taste: then bake it in the oven at 250 ° C for about 13 minutes (I recommend the first 7 minutes on the medium level of the oven and the other 6 to the 3rd oven track under the grill).
Ingredients
700gr of protein flour
700 g of re-milled semolina
1 bottle of "Il delicate" Petti sieved tomatoes
820 g of water (depends on the flour if it absorbs less or more water)
60 g of extra virgin olive oil
1 teaspoon of malt powder or liquid (optional)
1 g of yeast
2 teaspoons of sugar
30 g of salt