Struggled between a pizza and a sandwich? Choose the pizza bread recipe of our social foodies! Simple and genuine ingredients like bread, tomato and mozzarella for a special tasty snack.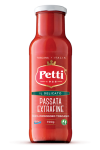 Preparation
Take the baguettes and empty them in the center all the way to the length, making sure to leave the edges to hold the filling.
At this point prepare the filling: finely mince the mozzarella cheese for pizza and combine it with the extra fine sieved tomatoes, holding about a third aside; add a pinch of salt and a little oregano.
Once the mixture is ready fill the baguettes, cover with the mozzarella left aside and put into the hot oven at 160 ° for 5-10 min.
Ingredients
2 baguettes
350g extra fine sieved tomatoes Il delicato Petti
1 mozzarella cheese for pizza
oregano
salt