Tomato risotto with spicy gorgonzola drops
Tomato risotto with spicy gorgonzola is an unusual but certainly successful combination in which the sweetness of tomato will be exalted by the round and spicy taste of cheese.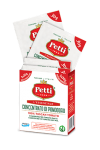 Preparation
Chop the onion and fry it in a saucepan with 40 g of butter. Once the onion is golden, add the rice and let it toast.
In the meantime, bring to boil about 60 ml of water in which you will melt the concentrated tomato paste and the sieved tomatoes. Once the rice looks shiny and polished, start to pour in the "tomato stock" gradually and cook it.
When the rice is half cooked, begin to melt the gorgonzola in a bain-marie. Adjust with salt and pepper and finish the cooking. Turn off the flame: at this point, add the butter and the melted gorgonzola cheese to the rice and mix gently until it turns creamy. Let it rest for 2 min. and finally serve the risotto decorating with a few drops of gorgonzola.
Ingredients
320 g of arborio rice
60 g of butter
200 g of spicy gorgonzola cheese
1 onion
30 g of concentrated tomato paste "L'essenziale" Petti
500 g of extra fine sieved tomatoes "Il delicato" Petti
salt
pepper
water