Artichokes' ravioli with tomato and basil | Petti Recipes
A classic Sunday recipe to share with the family, recommended by "Le dolcezze di Valentina".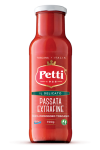 Preparation
Wash the artichokes and cut them into thin strips, then fry them in a pan with oil, salt and pepper on a rather lively fire (you may add a teaspoon of water to avoid burning). After about 10 minutes remove from the heat and let it cool. On a pastry board make a well with the flour, then pour the eggs, oil and salt and start to incorporate the flour by hand. Mix well and work until you have formed a compact and smooth dough. Wrap it in the cooking film and let it rest at room temperature for 20 minutes. Then roll the dough with the pasta machine, pull it well and form 2 thin rectangular long strips. Pour a teaspoon of artichokes, previously prepared, about 3 cm apart and add the minced mozzarella. Cover with the other half of pasta in strip, brushing the border and the ends with a little water and press gently to close them. With the help of a wheel, cut the strip in squares to make the ravioli pasta and cook in plenty of salt water. Meanwhile, pour the Petti extra fine sieved tomatoes and a spoon of Petti's double concentrated tomato paste in a saucepan with a spoon of oil and a few basil leaves, and let it cook for about 20 minutes on a slow fire. At this point, you just must taste! Put the tomato sauce on the bottom of the plate, then lay over the ravioli, add a little olive oil and a sprinkle of black pepper.
Ingredients
2 eggs
200 g superfine flour
1 tablespoon of extra virgin olive oil
1 handful of salt
For the stuffing
2 artichokes
1 mozzarella cheese
salt and pepper
For seasoning
50 g extra fine sieved tomatoes "Il delicate" Petti
1 tablespoon of concentrated tomato paste "L'essenziale" Petti
extra virgin olive oil
basil
salt and pepper
RECIPE: LE DOLCEZZE DI VALENTINA