Baked rigatoni with meatballs
If you are looking for a rich and appetizing pasta, I recommend these rigatoni seasoned with a succulent meatballs' ragu.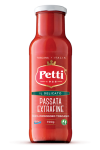 Preparation
Pela e trita la cipolla, soffriggila in una casseruola con un filo d'olio e aggiungi la passata di pomodoro. In una ciotola amalgama la carne trita con l'uovo, il sale, il parmigiano, il prezzemolo e il pane raffermo che avrai precedentemente ammorbidito in acqua e successivamente strizzato. Confeziona le polpettine, quindi versa la passata di pomodoro e porta a cottura per mezz'ora. Cuoci i rigatoni in acqua salata, scolali, condiscili con il ragù di polpettine, amalgama e confeziona un primo strato in una teglia da forno imburrata, unisci la mozzarella affettata e termina con un altro strato di rigatoni. Spolvera la preparazione con il parmigiano e cuoci in forno a 190 gradi per 20 minuti.

Ingredients
300 g di rigatoni
200 g di carne trita di manzo e maiale
1 uovo
100 g di pane raffermo
200 g di mozzarella
700 g di Passata extrafine Il delicato Petti
1 cipolla
parmigiano reggiano q.b.
prezzemolo fresco
olio extravergine di oliva
sale
RECIPE: VERONICA MIRABELLA