A fish soup of the Ligurian tradition.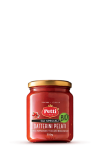 Preparation
Underneath a stream of water, clean the anchovies, eviscerate them by sticking the tail (the original recipe does not remove the bladder, but I find it more practical); drain them well on a sheet of kitchen paper.
Meanwhile, slice the onion finely. In a large saucepan fry the onion and the crushed garlic. Remove the garlic and pour in the white wine until it is reduced, then add Petti's peeled datterini tomatoes and as much water. Cook for about 15 minutes and adjust with salt. Add the anchovies, cover with the lid and turn off the fire. It will be the heat of the bagnun to cook the anchovies, it will take 10 minutes.
In the meantime, put a melba toast in each plate, pour a little oil on it, place over the anchovies and the bagnun. If you do not have the melba toasts, you can use homemade toasted bread in the oven. Serve right away.
Ingredients
1 kg of fresh anchovies
1 clove of pink garlic
1 onion
1 jar of peeled organic datterini tomatoes "Gli speciali" Petti
1 glass of dry white wine
2 tablespoons of extra virgin olive oil from Liguria
6 melba toasts
salt to taste
RECIPE: MARIA CHIARA CAMPODONICO