A classic of Italian cuisine, salted cod in a baking tray with tomato meets bread and becomes a fast, tasty and healthy dish.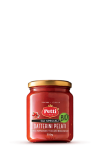 Method
To prepare tasty rolls with salted cod, dice the fillet of salted cod into 3 cm cubes. In the meantime, flavour the oil with half the onion cut finely and the parsley stalks (which will then be eliminated) in a frying pan over a low heat. Add the cubes of salted cod and brown them on both sides. Add the Petti organic peeled datterini – organic peeled grape tomatoes with their sauce. Cook in a covered pan for 10 minutes, salt to taste and continue cooking without the lid for another 10 minutes. Ensure that the salted cod doesn't break up as it's turned.
Serve as follows: cut the burger buns in half, put a spoonful of sauce on the base, a cube of salted cod, a couple of grape tomatoes and a dusting of oregano; cover with the other half of the roll, also moistened with the sauce. Your rolls with salted cod are ready.

Ingredients
500 gm already softened salted cod
4 burger buns
350 gm Petti organic peeled datterini – organic peeled grape tomatoes
Red onion
Fresh oregano
Extra virgin olive oil
Salt
Parsley