Pici pasta with datterini tomatoes, anchovies and walnuts
Pici are a fresh pasta typical of Tuscany. We offer them in a quick but tasty recipe, ideal for a "pastata" among friends, accompanied by peeled organic datterini Petti "Gli Speciali", walnuts and anchovies.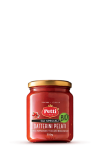 Preparation
In una padella antiaderente fai soffriggere l'aglio. Eliminalo, abbassa leggermente la fiamma e fai sciogliere le acciughe. Quindi, aggiungi i datterini pelati Petti Bio con il loro succo e fai cuocere per 15 minuti a fiamma vivace. Intanto, fai lessare i pici in una pentola con acqua salata già in ebollizione. Scolali e falli saltare con i datterini e la granella di noci. Servi con un filo di olio extravergine a crudo.
Ingredients
600 g di Pici toscani freschi (400 g se secchi)
350 g di datterini pelati Petti Bio "Gli speciali"
olio extravergine di oliva
3 acciughe sott'olio
1 spicchio d'aglio
8 noci già sbucciate e tritate
sale