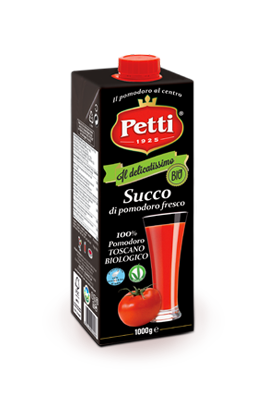 ORGANIC FRESH TOMATOES JUICE
Il delicatissimo Bio
Fresh tomato juice by Petti is obtained from the best Tuscan tomatoes, exclusively processed under low temperature in order to preserve the fragrance, the avour and the intense colour of fresh tomato.
MORE
Download the whole catalog
to discover all the products of the line
"Petti – Il pomodoro al centro"
Suggested recipes
Cook with Petti tomato and be inspired by taste and fantasy.
Petti helps you creating all sorts of dishes, from the traditional Pastas to more exotic and Gourmet recipes, our wide range of tomato preserves are ideal for practical and quick meals, for those who have no time to spend in the kitchen, but the Petti range offers a wide choice also to real, Chefs, experts and food lovers. Classic sieved tomato passata, chopped tomatoes, concentrated tomato paste and an entire line of delicacies from Tuscan organic Datterini, the wide range of Petti tomato meets all requirements and tastes. We explain how to maximize the features of each product for a healthy and varied cuisine.
FIND RECIPES